What's In My Vegan Bag?
What are the essentials I keep with me ALL the time you ask. Well in this blog post I will answer that question. When I first decided to go vegan, use cruelty-free products, & not support the leather industry, I had a hard time replacing my essentials. I used to always have a classic chapstick with me (not vegan, contains beeswax & tested on animals), my favorite leather wallet (obviously not vegan), & my travel sized makeup (not cruelty-free). Since then, I have pledged to myself, the animals, & the planet that I will be more conscious about what brands & products I support. I have found products that not only replace my old essentials, but also benefit me more than the old ones! I carry all of these essentials with me almost everywhere I go. I love going to coffee shops & cafes to edit my videos/photos & write my blog posts. I find that I am less distracted & more productive when I go out & work. With everything in my bag, I'll go to the grocery store, farmers market, & restaurants without missing much!
My Bag
I used to like small crossbody bags but since I have changed what I carry, I have decided backpacks are always better for me. I need things to be easily accessible, lots of space, & I prefer to be hands free when possible.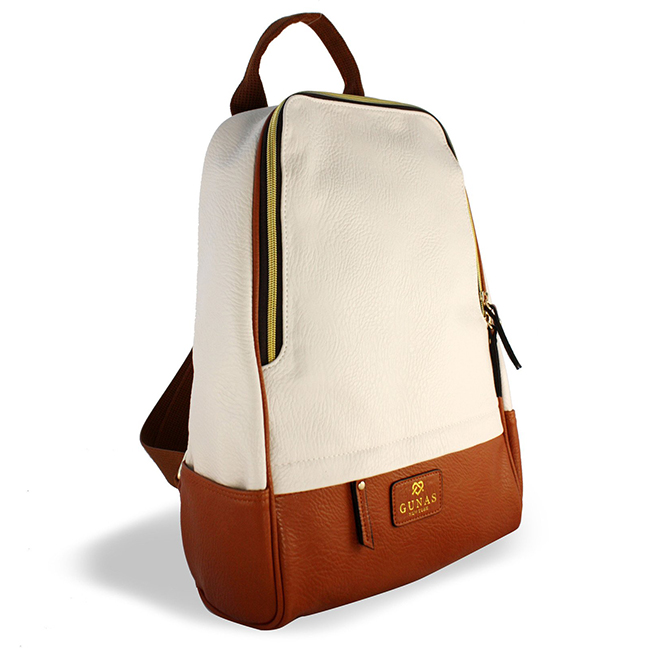 I have this backpack from GUNAS New York. They are an amazing brand that I am happy to support. All of their designer quality bags & shoes are made with vegan leather. It's impeccable how realistic their vegan leather is. It's easy to clean, very well made, & looks very high end. There are different color options available for this bag to choose from. I really like the neutral colors I chose, it goes with just about everything! I am able to keep all of my essentials in this bag with plenty of extra room for additional things.
Quick Access Essentials
It's pretty essential that I have specific things easily accessed. I always have my phone, my wallet, chapstick, & a camera battery ready at all times. Luckily my backpack has a perfectly sized front pocket I can open quickly. My wallet is very minimalist and only holds a few cards & some cash. I do not remember the bran but I have linked some comparable ones below.
Tech
Since I am usually working, I always have my computer with me with a power cord. The backpack fits my computer perfectly. I have a 13" Mac so I if you have a 15" laptop or larger this may not be ideal. I also always have a phone changer.
Zero Waste
Often times I am away from home for a long period of time and need to grab a snack or something while I am out. I have learned that carrying a few reusable produce/bulk bags with me is very helpful. That way I don't need to get a bag at checkout or use rapper of any kind. I highly recommend trying this out! And of course I always have my little pouch of reusable wooden utensils with a metal straw with me everywhere I go. My Hydro Flask doesn't usually go in my bag but it is an essential that I carry with me everywhere. If I know I am going to be gone for a long time, I will make myself a smoothie in the morning & it will still be cold hours later that to the Hydro!
Skincare/Beauty
Since my skin can get pretty dry without proper hydration throughout the day, I always have essential skin food & some makeup for quick fixes. I absolutely love the 3-in-1 revolution light moisturizer from Leeanni Eco. It's super light weight & hydrating but never leaves my sin feeling oily. Leeanni Eco is all about using natural ingredients to feed our skin minimalist. They have two products (both of which I love) that work together to help your skin be as healthy as it can be. The two products make a skincare routine that is just about 15 seconds! That is why I love bring their products with me. They are small & compact & so quick & easy to use! I also keep a small concealer, & my stick highlighter. All of these things are so easy to apply in a hurry & they are nice & compact for my backpack.